Our Experts
Generali's entire Multinational Program proposition and network are centrally governed by the Generali Global Corporate & Commercial Central Multinational Programs & Network Management Team.
This dedicated team of experts handles operational governance and management for Multinational Programs. The Team's responsibilities include:
Defining Multinational Program value proposition and strategy
Defining processes and procedures to support end-to-end business servicing for Multinational Programs
Managing the global network
Managing the global IT platform and tools.
At a local level you will find a dedicated team of underwriters, operations and claims professionals and risk control engineers in each Generali Producing Office. They are ready to work alongside you, identifying and assessing your risks, designing the best insurance solution and program structure, and ultimately delivering your custom-tailored Multinational Program in an efficient, timely manner.
Each Generali Producing Office can boast clear governance of the servicing infrastructure and an agile operating model. We will assign a dedicated Multinational Service Manager and Fronting Manager. They will guarantee you receive the flexibility and agility necessary to adapt to continuous change in global business demands, as well as empowered service that can deliver on our promise.
Your Multinational Service Manager can prove particularly helpful, making sure your business has what it needs to keep running smoothly and remaining at your side to provide seamless, harmonized coverage solutions all over the world, regardless of local markets and requirements.
You expect the same service levels and protection you enjoy in your home country, and that's precisely what we provide, from policy issuance to aftersales service, technical consulting, claims handling and more.
Service Manager (Producing Office)
MP Service Managers (MPSM) are fully dedicated to end-to-end program delivery, ensuring and supporting the issuance process for local policies. They provide monitoring and reporting capabilities that allow us to make sure you receive the excellent service Generali is committed to.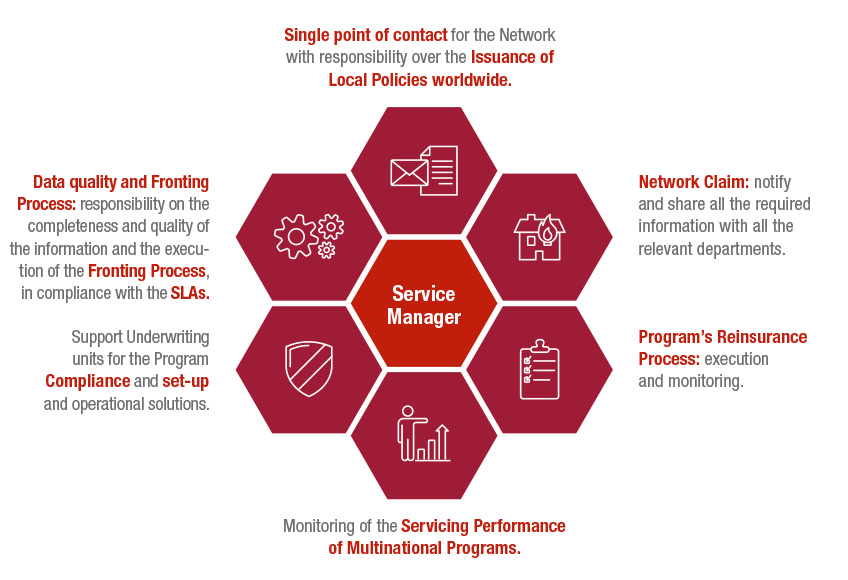 Fronting Service Manager (Fronting Office)
The Fronting Service Manager is responsible for end-to-end business servicing and execution of the Fronting Process within his or her assigned country. The Regional Fronting Service Manager oversees fronting activities and performance across his or her assigned region.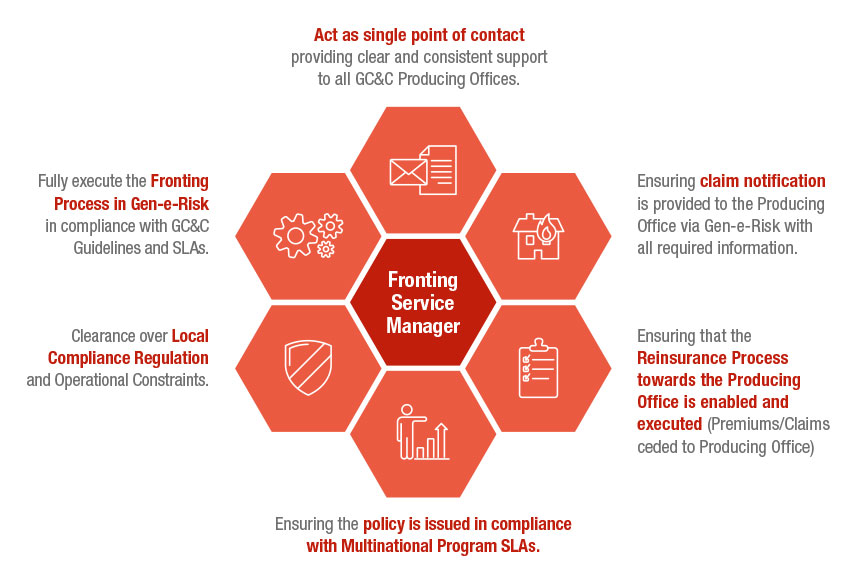 Regional Fronting Service Managers have been appointed for Asia, LatAm and individual CEE Regions.
Claims people are closely involved throughout a client's insurance cycle. They provide custom-tailored claims solutions and ensure the fast claims procedures that are vital for successful management of MP clients.
We'll reverse your claims experience, preparing you ahead of time so that you already know your next steps.
We provide quick, hassle-free payment of valid claims, making it easier for you to recover quickly and protect your market presence. Our enormous reservoir of international experience, global network and tools allows us to resolve cross-border issues when assessing a claim, providing seamless claims service regardless of any potential issues between master and local coverage policies. We'll make sure your balance sheet is protected against major events, making sure you have the proper risk mitigation and recovery support in the event something goes wrong.
You'll appreciate the advantages of our Claims Boutique Service: an approach to serving clients that sets us apart. Before anything can happen to your company, we'll bring your broker, the claims team, Loss Prevention specialists and Multinational Program experts to the table with you.
Our Loss Prevention Multinational Network Service boasts a global team of over 100 risk engineers located in more than 30+ countries, providing you with prompt responses and operational support in assessing multinational risks.
Our people are our best asset, trained and prepared to deliver special services tailored to your specific needs.
From centralized payment management to Captive fronting management, our empowered experts on the ground (supported by our Group infrastructure and governance) will fulfill your special needs and deliver the excellent service you expect from Generali.