Generali Group
Generali is one of the largest global insurance and asset management providers.
Generali is one of the largest global insurance and asset management providers. Established in 1831, it is present in over 50 countries in the world, with 82 thousand employees serving 68 million customers (Figures as at December 31, 2022).

In recent years we have been through a major strategic reorganisation that has allowed us to bring in greater focus on our core business, greater discipline in the management of our assets, and simpler, more transparent governance. This process has led us into a new phase, based on more efficient business models, innovative commercial strategies, and a stronger, more global brand.
We are inspired and motivated in what we do by our purpose "enable people to shape a safer and more sustainable future by caring for their lives and dreams".
The commitment to sustainability is one of the enablers of our strategy, and our ambition is to be the Lifetime Partner to our customers, offering innovative and personalized solutions thanks to an unmatched distribution network.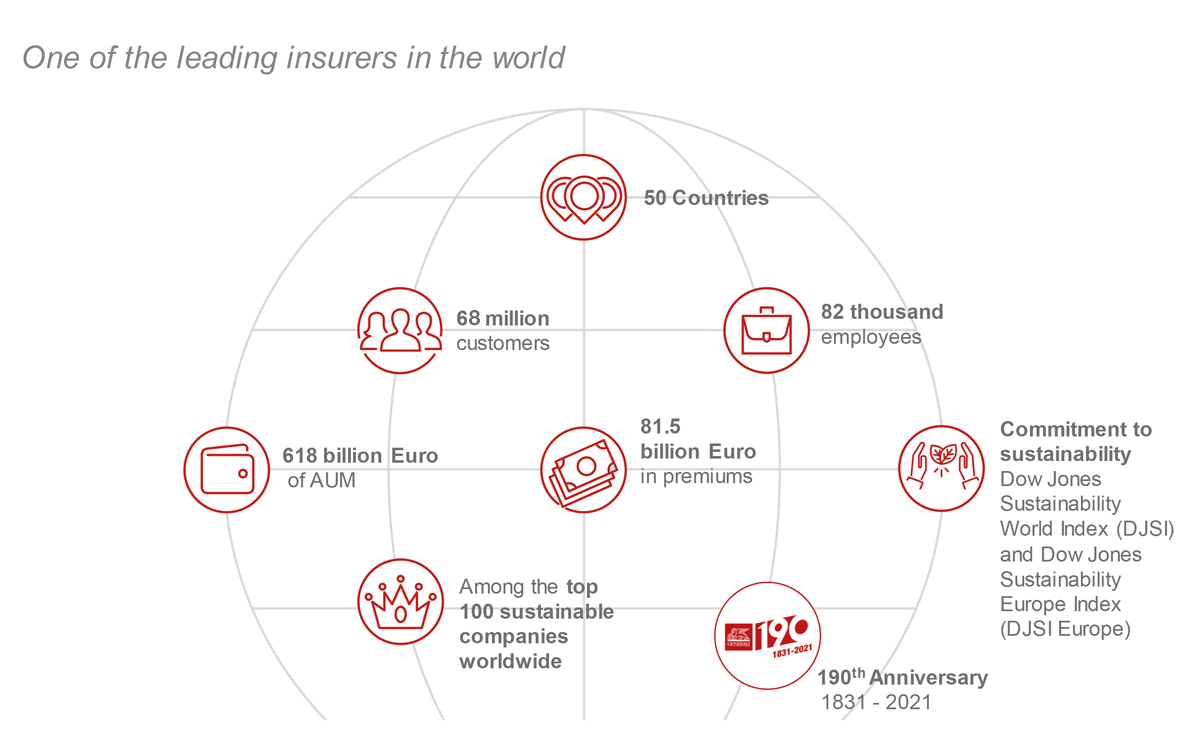 Figures as at December 31, 2022
Global Presence
Since the very beginning, our strong international vocation has set us apart and is one of our greatest strengths. Our geographical diversification is balanced between mature countries such as Italy, Germany and France, markets with high growth prospects (Eastern Europe), and emerging countries in Asia and Latin America.
Our international presence is our greatest strength: Generali is a major, Europe-centric company that however is continuing to build its presence selectively, also in Asia and South America.
In particular, we are the leading insurer in Italy, one of the leading primary insurance groups in the German market , while in France we are eighth in the life insurance segment, eighth in the P&C segment, and fifth in A&H.
The Group boasts a presence in the central-eastern European area for nearly 200 years and after the re-opening of the markets in 1989, it has strengthened its position over the years, becoming one of the largest insurance companies in this area.

The Group has an increasingly significant presence also in Asia and South America, areas where it is seeking to continue its growth.
Group's Key Figures (€ mln)
| | | |
| --- | --- | --- |
| | 2022 | 2021 |
| GROSS WRITTEN PREMIUMS | 81,538 | 75,825 |
| OPERATING RESULT | 6,509 | 5,852 |
| NET PROFIT | 2,912 | 2,847 |
| GROUP SHAREHOLDER'S EQUITY | 16,201 | 29,308 |
Figures as at December 31, 2022