Multinational Programs Solutions for you
We know what you're looking for when purchasing multinational insurance protection. Our job is to explore all the risks embedded in your business, including hidden or difficult-to-identify issues. We'll give you a comprehensive, global view of threats to your business continuity. You won't have to worry about shifting regulations because we stay up-to-date both locally and internationally, informing you whenever necessary. The size of our Group enables us to collect knowledge at a global level and identify foreseeable trends and changes.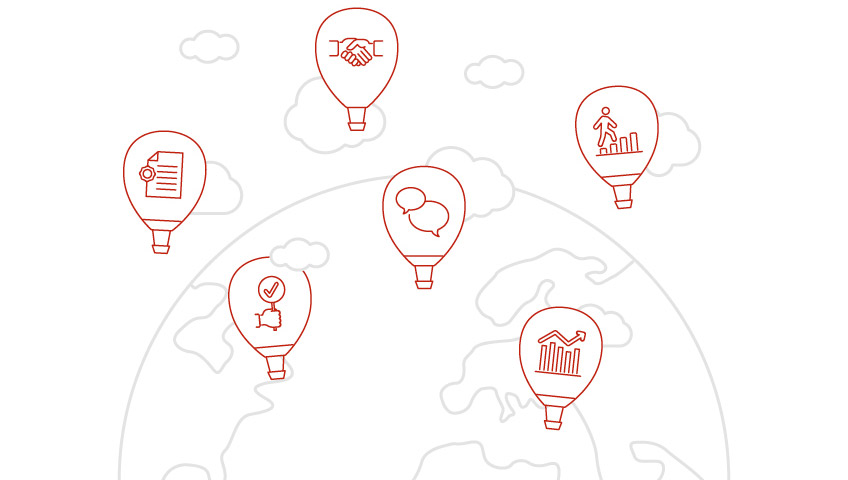 Our top product is your peace of mind. We create solutions and services based on a global vision of the risks your business is facing, helping you minimize or even eliminate their impact altogether.
You'll find a dedicated team of operations and claims professionals, underwriters and risk control engineers from around the world ready to work alongside you to identify risks and design the best way to shield your business from them.
Our expertise is local, but our risk management experience is global. Our international organization and worldwide network guarantee you have the right solutions, in the right place, at the right time no matter where your business is located.
We assess your multinational risk awareness, offering you the best possible solutions for addressing multinational claims. We also take time to identify your vital activities, business processes and the potential impact multinational claims can have on them, all within the framework of your strategic projects and needs.
You'll appreciate the benefits of services like crisis management, onsite training, continuity planning, regular updates for new regulatory measures and technical studies.
As part of our efforts to put the client at the heart of everything we do, we've built an innovative, customer-centric organizational framework for end-to-end servicing. The Multinational Programs Servicing Manager in each local Generali office stands at the center of this model, empowered and responsible for end-to-end program service execution.
Our global loss prevention service and assistants will further support you, helping drive your investments and improve your business protection.
We focus on client needs, adapting our servicing solutions to fit, including options like centralized premium collection, freedom of services coverage, flexible certificate administration and more.
In keeping with our customer-centric focus, we offer tailor-made solutions with add-on services like crisis management, global loss prevention programs, as well as cost-effective turnkey solutions.
You'll also appreciate the benefits of "Gen-e-Risk," an innovative, web-based Global Multinational IT Platform that we designed and developed to support our clients as they explore coverage for worldwide risk exposure. The platform supplies customer and network reports, allowing our clients to benefit from the advantages of a simple, regular, individualized digital risk report.