Parametric Insurance
What's keeping you awake at night?
Worried that traditional insurance won't cover all your risks? Looking for alternative risk transfer solutions to achieve savings? Concerned about ensuring claims payment can happen swiftly even in times of lock-down?

Our parametric insurance solutions provide peace of mind, filling the gap where traditional policies may fall short or drive premium increases. It complements standard insurance, ensuring speedy and hassle-free settlements when something unexpected, for example a weather-related event, threatens to damage your business.

We know business continuity is your primary concern, and everything we do is designed to help keep your company up and running no matter what happens. We'll partner with you, working alongside your business and tailoring our products to suit your individual needs.

At Generali, your challenges are our business.
HELPING YOUR BUSINESS SUCCEED
No matter what your risk landscape looks like, we can and will adapt our solutions to suit your needs. We spend time getting to know you, familiarizing ourselves with the particular challenges and hazards of your business so that we can custom-tailor the best policy for your company.
ADDING VALUE BEYOND THE POLICY
Adding value is the heart of our boutique service. We've designed it to make sure our clients not only benefit from the protection insurance provides, but gain a full understanding of the risks they're exposed to and the protections we provide so that they can make informed choices about what is best for their business.
AGILE, FLEXIBLE AND ADAPTABLE
We resolve issues as they arise, creating bespoke solutions tailored to your company's specific needs. We're proud of our rapid response and flexibility, augmented by substantial coverage through natural catastrophe coverage, non-physical damage business interruption coverage, contingent business interruption coverage and more. When triggered, claim payment happens in just a few days and relies solely on data from sensors or satellites, ensuring a hassle-free process for you and a fully remote proceeding that remains robust and operational in times of lock-down. You'll find we speak your language, partnering with your company and using our global experience, local knowledge and sector insights to promote your interests.
INSURANCE TAILORED TO YOUR NEEDS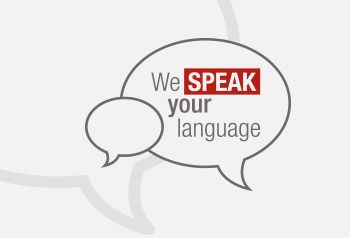 Parametric insurance is designed to reduce the damage inflicted by unexpected events. Worried about natural catastrophes, storms, early frost or flooding? We can offer parametric coverages that provide straightforward, transparent protection and swift pay-out for many different weather-related events. Our people work closely with clients to produce custom-tailored parametric coverages that are easy to understand and adaptable to many different situations. Our solutions can smoothly be integrated in your existing insurance program to achieve premium savings, as deductible buybacks, carve-outs or top layers. In addition to protection from natural catastrophes, our policies provide innovative covers such as revenue protection for the renewable energy sector, helping cover shortfalls in production, as well as crop yield protection, cargo protection, event insurance and more.

Let our expert staff sit down with you and learn more about you, your business and your needs. We'll identify risks threatening your company's wellbeing, and design efficient, effective parametric insurance solutions that will put your mind at ease, secure in the knowledge that no matter what happens, Generali Global Corporate and Commercial will be there to help.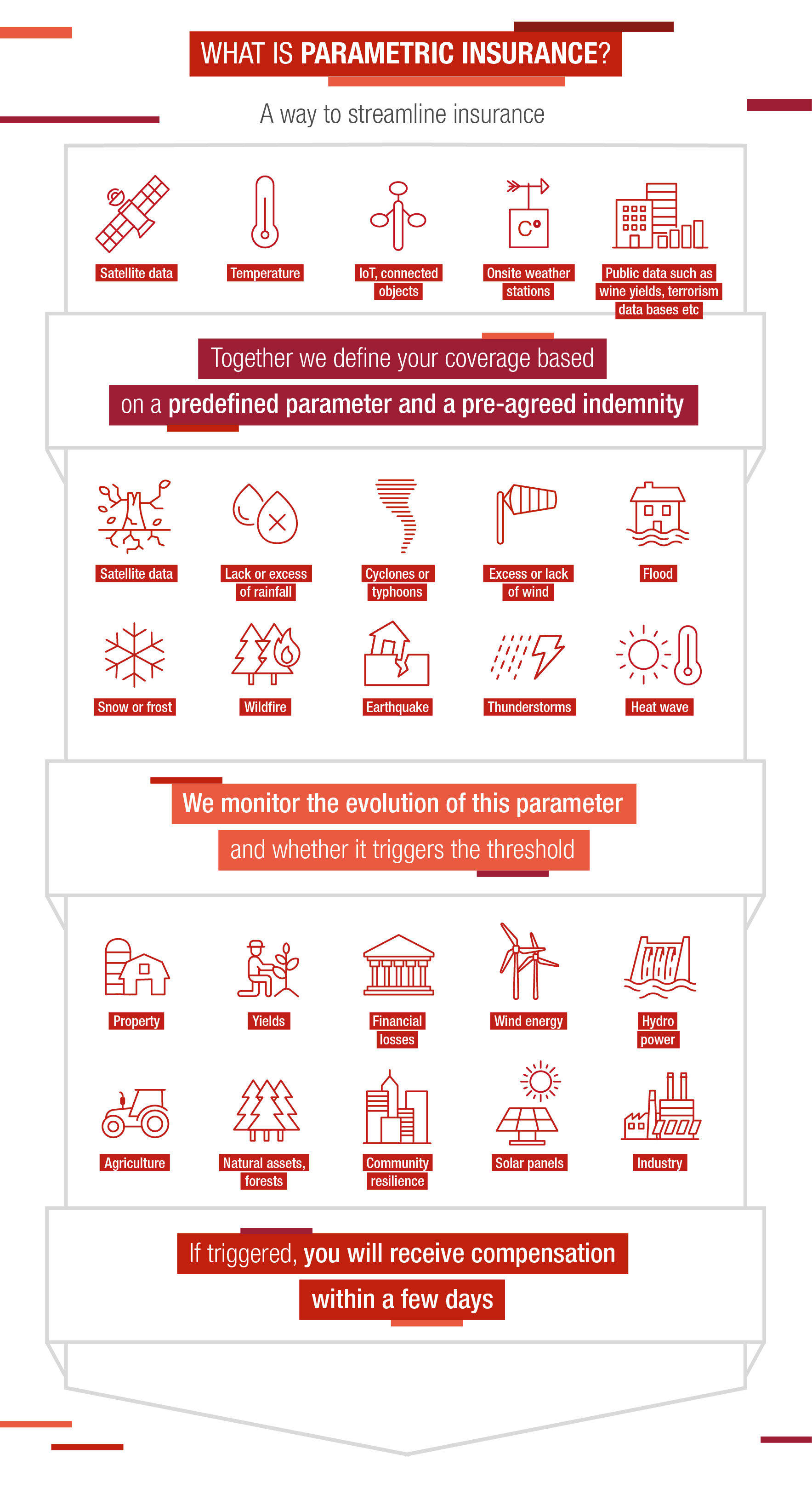 Examples of Parametric Insurance
FROST COVER FOR AGRICULTURE
Parametric can cover efficient frost covers for spring frosts decimating vineyards or orchards. Temperature is measured by private weather stations installed directly on the insured parcels to measure real on-site temperatures, thus reflecting reliably very local variations. When the temperature drops below a pre-defined threshold, it triggers a claim, and the indemnity is pre-agreed upfront for each temperature.

REVENUE FOR THE RENEWABLE ENERGY SECTOR
Wind energy producers can face up to 30% difference in production from one year to the other due to changing wind conditions. We can measure wind speed by satellite gridded data and combine this data with the turbine's power curve to cover the loss of production when wind conditions are not favourable, thus securing wind energy project's yearly revenue.

NATURAL CATASTROPHES
Parametric insurance can cover Earthquakes, Cyclones and all other Natural catastrophe perils via bespoke structures. The most frequent structure is 'Cat-in-a-circle', whereby indemnity is triggered when a cyclone of a pre-defined category reaches a circle at a pre-agreed distance around the insured location. This very flexible tool enables significant premium efficiency gains when combined with a traditional insurance program.

HAIL COVER
Parametric can cover hail damage for agriculture, storages in the open such as car parks, or buildings. Hail is measured via next generation sensors specifically installed directly on the insured premises and measuring hail stone sizes and intensity with a precision of a few meters, thus capturing hailstorm very local variations. Indemnity is agreed upfront based on stone sizes and density, and claims are detected directly by the station, enabling a reliable, swift and fully remote claim payment.

AND ALL OTHER NATURAL AND WEATHER-RELATED EVENTS
This concept can be applied to all weather-related events: low river levels preventing transportation of goods or making it prohibitively expensive, yield decrease causing supply shortages for food producers, flood that can be measured very locally by camera or gauge… making parametric products a flexible and transparent tool to cover in a highly cost-efficient manner all your weather-related pain points.